Thermopsis lanceolata Extract - Cytisine 98%
Smoking cessation drug, Cytisine 98%, baptitoxine, sophorine powder 98%,
Thermopsis lanceolata Extract

PRODUCT NAME: Cytisine
BOTANICAL SOURCE: Thermopsis lanceolata
CAS NO.: 485-35-8
PART USED: Whole Herb
APPEARANCE: Light yellow crystalline powder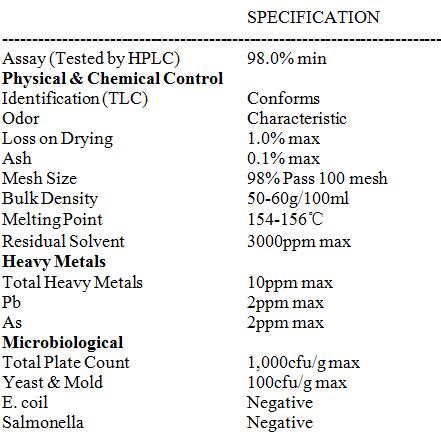 Cytisine is an acetylcholine agonist, and has strong binding affinity for the nicotinic acetylcholine receptor. As a pharmaceutical preparation, it is available for the treatment of tobacco smoking. It has been available in former socialist economy (FSE) countries for more than 40 years as an aid to smoking cessation . The synthetic drug varenicline, which has some structural and pharmacological similarities to cytisine, was approved in 2006 as a Smoking cessation drug, Cytisine 98%. In 2011, a randomized controlled trial with 740 patients found cytisine improved 12-month abstinence from nicotine from 2.4% with placebo to 8.4% with cytisine.


Minimum Order Qty: 1kg
Delivery time: 3-5 Days after Receipt of Deposit Payment
Packaging Details: 25kg/ Drum + double plastic bags + carton drum for outer packing or other options are available on customer demand.